Rébecca S., 808, video installation, 2004
Viewers are quickly engrossed by this alternate world, whose fantastic realism is sensual and ethereal, and by the hypnotic rhythm of these fictions, which are normally mounted in a loop.
For her show at the Center for Contemporary Images, Rébecca S. is creating a new video installation. A dual projection on either side of a single wooden screen allows two films to echo one another and interact while perhaps leaving viewers quite overwhelmed . Such was the case for the installation Behind the Screen, which the artist created with Bohdan Stehlik at Planet22 in Geneva. A light box showed the image of a woman who seemed to be dragging something cumbersome behind her. The unwieldy thing turned out to be a body, which could be made out in a second image projected on the rear of the first. The image kept its mysteriousness nonetheless, even as one went behind the setting, as it were, and into the field of the camera.
Often in Rébecca S.'s videos, the narrative framework is only suggested; the keys for sorting out the story's backdrop are always partial, leaving the way open to an important margin for viewers' own interpretation. Indeed, each time we think we have in hand the clue that will lead us through the mystery, or a certain logic seems to be taking shape, a break, an improbable detail or a false connection once again upsets our convictions.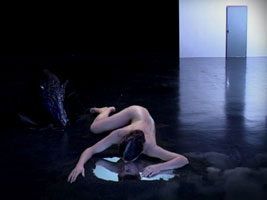 Rébecca S., 808, video installation, 2004
The iconographic vocabulary, the atmosphere or the titles of Rébecca S.'s films often point explicitly to the kind of imagination that is found in fairytales and legends. For example, in De l'autre côté du miroir (From the Other Side of the Mirror, a direct reference to the Alice books), the artist drags us along for a fruitless and fearful trot down a forest path. The route chosen forces us to edge our way down the path and brush up against the sides of a car with open doors and headlights on, and a dead animal lying on the ground nearby. We are also made to retrace our steps tirelessly, incapable of reaching the refuge-chalet in the distance. Like Alice in Wonderland, the more we think we are nearing the goal, the more we are actually moving away from it. In Rébecca S.'s universe, the world is not always what it appears; it may in fact be unconventional or inverted thanks to a subtle symmetry, as if seen through a mirror.
Thus, hybrid or partly transformed characters people worlds whose realism is noticeably unconventional: a man-horse (Où les soleils se lèvent—Where the Suns Rise), a horse-headed woman (Intime conviction—Intimate Conviction), a giant spider (Cri de l'araignée—Cry of the Spider), and so on. For the setting of her latest film, the artist has chosen a long dark labyrinthine hallway with numbered doors (an allusion to the thriller genre and Stanley Kubrick's Shining), in which mysterious figures stroll by, pop into the frame and disappear, conveying a powerful symbolic weight and performing actions that are at times incomprehensible and enigmatic. And suddenly, unnoticed, at a moment when we are occupied elsewhere, our connection with reality begins to yield, give way, and a gentle transformation takes place…

Rébecca S., 808, video installation, 2004
Rébecca S.

Rébecca S. (Sauvin) born in 1975 in Schönenwerd (AG), Switzerland
Ecole Supérieure d'Arts Visuels from 1995 to 2000, Geneva, Switzerland
Lives and works in Geneva.


Solo Exhibitions (selection)

2004
Solo exhibition, Galleria Laurin, Zurich, Switzerland

2003
Le cri de l'araignée, Salle Crosnier, Palais de l'Athénée, Geneva, Switzerland

2002
Dramatic Workshop, screening of videos, Galerie Analix Forever, Geneva, Switzerland
Attention danger, Rebecca S., Galerie Analix Forever, Geneva, Switzerland

2001
De l'autre côté du miroir, Galerie Analix Forever (with P. Weidmann), Geneva, Switzerland

2000
Projektraum enter, Kunstmuseum, Thun, Switzerland
Behind The Screen (with B. Stehlik), Galerie Planet 22, Geneva, Switzerland


Group Exhibitions (selection)

2004
Swiss Video Lobby, Centre d'art contemporain, Vilnius, Lithuania
21st World wide video festival, Project Room, Amsterdam, Netherlands
Dachkantine, Zurich, Switzerland

2003
C'est le moment/In diesen Zeiten, Centre PasquArt, Biel, Switzerland
De l'autre côté des Alpes, Galleria Biagiotti arte contemporanea, Florence, Italy
Swiss Video and Performance Art, Instituto svizzero di Roma, Rome, Italy
1st Contemporary Art Biennial of Prague, Galerie Nationale, Prague, Czech Republic
Nuit de la Science, Musée d'histoire des Sciences, Geneva, Switzerland
V.I.D. Bern 2003, videoart festival, Dampfzentrale, Bern, Switzerland
Slave :, Videodays, Hong Kong, China
10ème Biennale de l'image en mouvement, Videolobby and competition (cat.), Centre pour l'image contemporaine Saint-Gervais, Geneva, Switzerland
VIPER Festival international de vidéo, competition imagination (cat.), Basel, Switzerland
CADRAGE, Galerie Analix Forever, Geneva, Switzerland
Festival des lumières, Galerie la BF15, parallel to the Biennale of Lyon, Lyon, France
LOVE AND DEVOTION, Lauréats 2002, City of Geneva, Performance and Installation, Centre d'art en l'Ile, Geneva, Switzerland
SON BALON, screening of videos, Lothringer Laden, Munich, Allemagne

2002
VideoFest, Museum Of Modern Art, Detroit, USA
V.I.D. Bern 2002, videoart festival, Dampfzentrale, Bern, Switzerland
Swiss Girls, Galerie Analix Forever, Geneva, Switzerland

2000
Concours Caran d'Âche, ESAV, Geneva, Switzerland
DevoirS de VacanceS, Galerie mire, Geneva, Switzerland
Infolio littérature en jeu, Geneva, Switzerland
Le meilleur des mondes, Musée d'art contemporain, Lyon, France

1999
East Of Fame (cat.), Seedamm Kulturzentrum, Pfäffikon, Switzerland
Biennale Images en Mouvement (cat.), Saint-Gervais, Geneva, Switzerland
Video-Café, Basel, Switzerland
Catalogues and publications
C'est le moment/In diesen Zeiten, catalogue Centre PasquArt, Biel, 2003
Double 03, art magazine, France, 2003
Biennale de Prague 1, catalogue, Prague, 2003
10e Biennale de l'Image en Mouvement, catalogue Saint-Gervais, Geneva, 2003
Swiss Art Awards, catalogue federal prize of art 2003, Kunstbulletin, Zurich, 2003
VIPER Basel 2003, catalogue VIPER, Basel, 2003
Abstract no. 12, art and design magazine, Switzerland 2003
Swiss Art Awards, catalogue federal prize of art 2002, Kunstbulletin, Zurich, 2002
Tunnel or Bridge, Swiss Art 2-02, 2002
Deux années sur orbit, edition Planet 22, Geneva, 2002
Wonder Red Now, catalogue federal prize of art 2001, Kunstbulletin, Zurich, 2002
Kunstbulletin n° 12, Zurich, 2001
East Of Fame, catalogue Seedamm Kulturzentrum, 1999


On line
www.rebeccasauvin.ch

Rébecca S., I'll tell you, 2003, Dyptic, Photographs 90/120cm