8 September – 16 October 2005
Masaki Fujihata
Field-Works
Video installations
Opening the 7th september 2005 at 6pm.
Exhibition open: Tuesday - Sunday, noon to 6pm - free entry.
Masaki Fujihata has worked for some fifteen years on new forms of visualizing knowledge, space and time. He is intrigued by the possibilities of recording three-dimensional data and has elaborated a complex yet ultra-lightweight electronic system that goes along with him in his travels around the globe, enabling him to capture in a surprising way the landscapes he has encountered. This equipment consists of a backpack topped by a GPS receiver and a wide-angle video camera to which are attached a directional microphone, a pocket computer, and an electronic compass.
The Center for Contemporary Images is pleased to present together for the first time four of the artist's Field Works, the latest of which, "Landing Home in Geneva" , was created this summer in collaboration with the research group "Formes de l'interactivité" of the Haute école d'arts appliqués HES of Geneva.
Kitted out with his equipment, Fujihata records the regions he visits, inviting us to tag along with him on his singular walks. Each of the sites where these walks take place was chosen in terms of the possibility of developing a project there linked specifically with its geography and history. In Field-work@Alsace, for instance, it was the border between Germany and France that was explored, while in Field-work@Mersea, the creation of a collective memory determined the walks taken by the participants around the island. As for Field-work@Geneva, the routes followed by interpreters and translators, who are to make their way to a place where they feel "at home," will sketch out a number of circular itineraries.
All of the material (images, interviews, spatial coordinates, camera positions) gathered in the course of these trips is brought together in a computer. At the editing stage Fujihata cuts and recomposes the itinerary along the route recorded by the GPS, attaching frames—their orientation and movements—to its tangled threads and thus staggering the shots throughout the space-time. Viewers can then see recreated on the projection screen the different views captured during the walk. These are exactingly restored to their spatiotemporel sequence thanks to the coordinates furnished by the GPS, which serves as a thread running through the reading.
This three-dimensional cartography introduces a topography that immerses viewers in the experience of a virtual excursion. They navigate in front of a screen, building other stories while following the GPS itinerary, which guides them through the twists and turns of a landscape that has been laid out by multiple points of views.
Exhibition supported by Consulate-General of Japan in Geneva.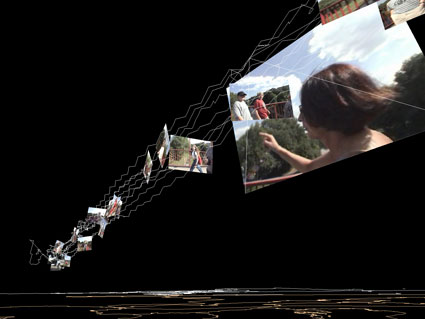 Born in 1956 in Tokyo, Japan, the artist Masaki Fujihata has specialized in the new-media field. He is a professor of fine arts and music at the National University of Tokyo in Japan. He lives and works in Tokyo.
Solo shows (sélection)
2005
"Landing Home in Geneva," Center for Contemporary Images, Saint-Gervais, Geneva
«Friends' Tree», the Kunsthaus, Graz, Autriche
2003
"Field-work», «Mersea Circles» Firstsite Gallery, Colchester, UK
2002-2004
«Field-Work@Alsace», Future Cinema, ZKM, Karlsruhe, Germany, KIASMA Finland, ICC Tokyo in 2002-4
2002
«Field-Work@Lake_Shinji» , Simane Art Museum, Shimane
2001
«Field-Work@Hayama» Ars Electronica, Linz, Transmediale, Berlin
1998
Nuzzle Afar, ICC, Galery, Tokyo
1996
NIKA Prize Festival Ars Electronica, Linz
1994
Impressing Velocity, ICC Galery, Tokyo
Group shows (selected)
2004
The Encounters in the 21th Century: Polyphony - Emerging Resonances, 21th Century of Contemporary Art, Kanasawa, Ishikawa
Proxy, Microwave International Media Art Festival, Hong-Kong, Chine
2003
«Hommes et Robots», Maison de la culture du Japon, Paris, France «Cinéma du futur», Lille 2003, capitale européenne de la culture, Lille, France
FUTURE CINEMA, ZKM, Karlsruhe, Allemagne / ICC, Tokyo / Kiasma, Helsinki, Finland
2001
Messages : look through language, Sendai, médiathèque, Miyagi YOKOHAMA 2001: International Triennale of Contemporary Art, Yokohama, Kanagawa
«Robot_Meme: Do Robots Carry the Genes of Culture?», National Museum of Emerging Science and Innovation, Tokyo