27 January – 20 March 2005
Video Installation
opening Wednesday 26 January 2005 at 6pm
exhibition open: Tuesday - Sunday, noon to 6pm - free entry
Through his art Olivier Bardin has been delving into the concepts of voice and the image, and the conditions of their reception, while including the viewer's position in his analysis. He designs displays that can bring out the various relationships between these different protagonists and therefore highlight the conditions of representation and reception.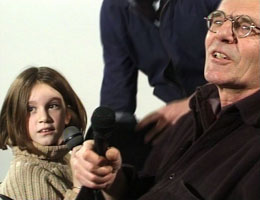 The Center for Contemporary Images is presenting four pieces by Bardin. Their layout not only helps to modify the space and our perception of it, but also renews our reading of the works offered, revealing other possible relationships between the viewer, the discourse, and the image. Thanks to a kind of mirror effect, viewers find themselves included in the work of art.
Le camion (The Truck, 2002) is a film that has been put together from Marguerite Duras's text by the same name. A young man reads the text to a young woman. As we progress through the text, which appears in subtitles on screen, a story develops before our eyes between the two young people. As in a mirror, viewers take part in the start of the relationship.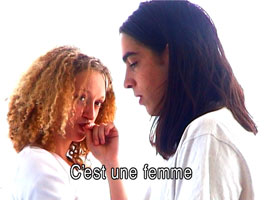 Peut-être un DVD (Perhaps a DVD, 2003) is a color slideshow. We see the expression of a child who has been roused from his sleep. The little boy's incredulous expression parallels viewers' own situation. They find themselves in a way facing a mirror.
"I'm revising that scene at the start of Bergman's Persona, that young boy on a bed in an empty room who is looking straight at the camera lens, looking at us, who then tries to reach out and touch a blurred face." Olivier Bardin 2003
This mirrorlike mechanism of representation is also found in the second room. Sur la Constitution à donner à la France (On the Constitution to be Given to France, 2004), originally a speech that Robespierre gave before the Convention on 10 May 1793, is read by Sylvie Caspar, whose clear voice is known for its cadenced announcements on Arte, the European arts channel. The words, pronounced with emphasis, indicate the founding notions of democracy—radical and often forgotten expressions. By simply listening to the speech, Lou Castel, a movie actor and figure from Italy's extreme left in the 1960s and '70s, becomes an actor in the film. Through his very presence and his acting, he constructs the role being articulated by the unseen voice. In real time and based on Robespierre's own expressions, the actor invents the body conjured up by Sylvie Caspar's voice and Robespierre's words. Viewer and actor share the same timeframe and experience the same speech. In this ideal space, with its relationships of equality, the trajectory of the various gazes emerges, with the sound of a voice reading a text on democracy.
In the third room Télévisions (Televisions, 2004) offers newly edited versions of eight different projects created between 1991 and 2002. In these Bardin, using the recording deck, explores the constraints of broadcasting and the protocols for transmitting and receiving images.
The eight pieces appear in chronological order, notably with excerpts from the following works: Obviously, Delphine Zampetti and Howard Kunzler are sleeping apart from 1995 (a man and a woman face one another in an apartment over several days); Une télé pour la télé (A TV for the TV) from 1997 (in the television studio of Pierre Huyghe's Mobile TV in Dijon, young people put together a live broadcast with no given theme); and Thinamimasakinatsumijunichitakichienaokiyugi from 2001 (children and teenagers from Hiroshima who don't know one another invent organizational rules which their temporary community imposes).
For the newly edited versions, Bardin invited a legal expert, Judith Ickowicz, to comment on his works and elaborate a text inspired by civil law, which governs the relationships between individuals in the way television codes do.
This work confronts the field of law in an unexpected way. Ickowicz initiates the dialog by choosing to situate herself on the grounds of civil law. The notions that she uses, such as absence, risk, legal entity, or silence, spring from that law. Civil law organizes relationships between individuals and has a part in the construction of a person's social identity through the representations it provides. In light of this reading of the law, Bardin's work takes on a different resonance.
Through their mirror effect and their putting triangular relationships into play, the mechanisms worked out by Olivier Bardin refer viewers back to themselves and spark a reflection on the conditions of representation and power. But they also introduce a political dimension and propose a democratic and politically committed view of art.
Olivier Bardin
Born in Saint-Etienne, France, 1969. Lives in Paris.
Ecole des Beaux-Arts de Bordeaux, France, 1990-96
Cité Internationale des Arts, Paris, France, 1999-2000
Académie de France, Villa Médicis, Rome, Italy 2000-2001
Solo Exhibitions (selection)
2005 Centre d'art contemporain de Castres, France (09.03).
Pour être socialiste, Galerie Blancpain-Stepczynski, Geneva Switzerland (17.02).
2004 Télévisions*, ARC - Musée d'Art moderne de la ville de Paris,
with texts and the voice of Judith Ickowicz, (22 October- 28 November).
Sur la Constitution à donner à la France, galerie cent8-serge le borgne, Paris, France.
2002 Je crois, Frac Languedoc-Roussillon, Montpellier, France* .
2001 Les cercles, Académie de France, Villa Médicis, Rome, Italy* .
Télévision, 21 émissions, Ecole Supérieure des Beaux-Arts de Nîmes, France* .
I'd like to see you, to talk to you in person, avec Annabel Vergne, Ecole Supérieure des Beaux- Arts de Nîmes, France*.
Le syndrome de Stockholm, avec Annabel Vergne, Angoulême, France.
1999 one to one, Public>, Paris, France.
Group Exhibitions (selection)
2004 FIAC, Fonds Municipal d'Art Contemporain, Paris, France.
Remakes, Domus Artium, Salamanque, Spain (8.06-31.07).
2003 Remakes, capcMusée d'art contemporain, Bordeaux, France (*CD rom).
2002 Tutto normale, Académie de France, Villa Médicis, Rome, Italy*.
fatouhanalucienmarianasimanatashasadiyesona, Manifesta 4, Francfort, Germany*.
2001 thinamimasakinatsumijunichitakichienaokiyugi, Hiroshima Art Document 2001,Hiroshima,JP.
Les cercles, Académie de France à Rome, Villa Médicis, Rome, Italy*.
1999 one to one, avec Kate Glazer, Crash! Corporatism and Complicity, ICA, London
Cities on the Move, in mini festival D. Gonzalez-Foerster, Hayward Gallery, London*.
1998 Printed Matter, New York, USA.
Cities on the Move, capcMusée d'art contemporain de Bordeaux, France.
*Projets with a publication
Catalogue
Monography
Télévisions, Frac Languedoc-Roussillon, 2002
Catalogues / Editions
2004 Télévisions, Paris-Musées, ARC, Musée d'art moderne de la ville de Paris
2003 Peut-être un DVD, DVD ART, art-netart, Paris, France
2002 "Le Village", Ecole et Culture, Actes du colloque, Cellule pédagogique, Geneva, 26-27 February pp.79-85
Tutto Normale, Académie de France in Rome, Villa Médicis
Manifesta 4, 2002
Short Hiroshima Art Document 2001, Hiroshima
guide, Manifesta 4
1999 Cities on the Move, Hayward Gallery, London
ZAC 99, Paris Musées, 1999
Managers de l'immaturité, Magazin, Centre National d'art contemporain de Grenoble
Magazines
2004 Emmanuelle Lequeux, "Olivier Bardin", aden / Le Monde, 21/05/04
Didier Arnaudet, "Olivier Bardin, la parole et le visage, Art Press N°303,
juillet-aôut 04, pp. 51-53
2002 Sophie Delpeux, "Télévisions", Critique d'art, n° 20, 2002
Judicaël Lavrador, (+33)01, Manifesta 4, septembre 2002
"Manifesta 4", Kunstforum (International), Bd. 161, August-Oktober 2002
"Une histoire, Bruno Racine au Café du commerce", Libération, n° 6586, 18 juillet 2002
Judicaël Lavrador, (+33)01, poster Manifesta 4, mai 2002
Stéphanie Moisdon Trembley, Manifesta IV, "La Lettre de Cologne", Bureau des Arts-Plastiques, n°14, 2002
Jean-Christophe Royoux, Documenta/Manifesta 2002, Institut français Frankfurt und Hessen, 2002
"Alice Laguarda, Olivier Bardin, Mélik Ohanian, La fonction auteur", Parpaings, n°32, avril 2002
"Elisabeth Wetterwald, Olivier Bardin, Mélik Ohanian", p. 74-76, Art press, n°278, avril 2002
2001 Monthly Art Magazine, vol. 53, Tokyo, Nov. 2001
2000 Jean-Christophe Royoux : "Le modèle de la conversation entre construction du moi et espace public", pp. 74-75, Oublier l'exposition, Art press spécial, n° 21, Paris, 2000
Sylvia Alberton :"Radio Temporaire", Kunst-Bulletin, Zürich, Janvier / Février 2000
Sophie Berrebi : "ZAC 99, Frieze, février 2000
Internet
http://www.magasin-cnac.org/with/bardin/