2 february – 2 April 2006
Copy Paste
Installation
Show opening Wednesday 1st February starting at 6 p.m.
Tuesday - Sunday, noon to 6 p.m.
The installation Copy and Paste presented by Sylvie Boisseau and Frank Westermeyer comprises three screened videos.
In the first, a man wielding a red flag is shown trying to direct cars towards parking spots. In the second, we see Frank Westermeyer reproduce the same activity at the same place.
The third video, however, actually takes place in two parts and uses the blue screen technique (also known as bluescreening and blue box): an action is filmed against a uniformly blue background, then is "carved out," i.e., processed out to be projected, now shorn of its original context, in a different setting.
In Copy and Paste, a street in Geneva serves as a background on which visitors to the exhibition are overlaid as they are filmed live using the blue screen technique in the venue. To do this of course, visitors have to play along with the proposed game. They are invited to grab a red flag and wave it, imitating the gestures of the two men who figure in the two other videos.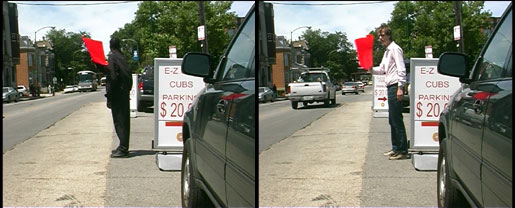 This device gives full meaning to "copy and paste," which of course refers to the process widely used in world of computers. The process, transmitted from machine to man, is shifted to a broader context and is transformed into a way of being in this case. We copy/we imitate, we paste/we adapt. Viewers copy by imitation and their recopied gestures are literally pasted in, displaced in a different environment which they are adapted to.
Sylvie Boisseau is born in 1970 in Thiais, in France.
Frank Westermeyer is born in 1971, in Essen, in Germany. He is a teacher for video art at l'Ecole supérieure des beaux-arts in Geneva.
Interventions in the open space
2005 Le chemin de terre piétiné comme sculpture, cité Weimar-Nord
2004 Boîte aux lettres en béton: aucune levée, Gropiusstadt, Berlin
2003 Canopy private - public, Kunstfest Weimar
2003 Boîte aux lettres en béton: aucune levée, Weimar
2002 Disparaître - apparaître, installation vidéo dans l'espace public
Personal Exhibition:
2005 Take Care, ACC espace art contemporain, Weimar
Interventions in the open space
2005 Le chemin de terre piétiné comme sculpture, cité Weimar-Nord
2004 Boîte aux lettres en béton: aucune levée, Gropiusstadt, Berlin
2003 Canopy private - public, Kunstfest Weimar
2003 Boîte aux lettres en béton: aucune levée, Weimar
2002 Disparaître - apparaître, installation vidéo dans l'espace public
Personal Exhibition:
2005 Take Care, ACC espace art contemporain, Weimar
Collective exhibitions (selection)
2005 Verpasste Gelegenheiten, Kunstverein Potsdam
2005 La Bauhaus si muove, Chiesa di San Paolo, Modena
2005 30+, neues problem, Berlin
2002 Videokunsttage Modena, catalogue
2001 Leposte, Galerie Public, Paris, catalogue
2001 Looping, Kunstverein Erfurt
2000 Art Frankfurt Kunstkino
1997 Film Museum Düsseldorf
Grants / Prizes
2003 Award for the best film, L'homme libre, Red Bank Int. Filmfestival, Red Bank, New Jersey, USA
2002 Award Cineric for L'homme libre, New York Film and Video Expo, NYC, USA
2000 Grand Prix du Jury for Moi vu par... Int. Bochum Videofestival
1998 Best Film Ma famille et moi, Cinematexas Int. Filmfestival, Austin, USA
1998 Lauréat Ma famille et moi, Blicke aus dem Ruhrgebiet, Bochum
1995 Prix d'arts plastiques Herne, Germany
Festivals (selection)
2005
Bienniale for Contemporary Images, Center for Contemporary Images, Saint-Gervais, Geneva,
VAD Festival, Girona, Spain
European Media Art Festival Osnabrück, Germany
transmediale, Berlin
Filmmuseum Vienna
Badischer Kunstverein, Karlsruhe
Heimat Moderne. Experimentale 1, Leipzig
Mediaart Friesland, Leuwarden, NL
International Shortfilmfestival Hamburg
Red Bank Filmfestival, New Jersey, USA
Visionaria Festival, Siena, Italy
2004 Zebra Poetry Clip Festival, Berlin
III International Video Art Show of Alcoi, Valencia, Spain
Video- und Dokumentarfilmfestival Kassel
eof, Paris
2003 Shortfilmfestival Hamburg
Red Bank Filmfestival, New Jersey, USA
Visionaria Festival, Siena, Italie
2002
Stuttgarter Filmwinter, Stuttgart, Allemagne
Filmfestival Dresden: Experiments
48th Shortfilm Festival Oberhausen
Int. Bochumer Videofetsival
TV Screening on 3Sat "The free man"
Filmfestival Munic, Experimental Film and Video Art
Cinematexas Int. Filmfestival, Austin, USA
Mediaart Festival Friesland, NL
Film Festival Flensburg
Interfilm Festival Berlin
International Filmfestival Winterthur, CH
Back-Up Festival Weimar
Videofestival Kassel
International Filmfestival Rotterdam, NL
2001
TV Screening on 3Sat German-language state cultural channel (Germany, Switzerland, Austria)
Cinematexas, Austin, USA
Transmediale Berlin
Goethe Institute Lille, France Nouvelle vidéo allemande
Kunstverein Erfurt
2000
The Void, New York City
Video Marathon, New York City
Gallery Chez Vincent, Paris
Festival Ovarvideo, Ovar, Portugal
Video Festival Bochum, Best Video
46th Shortfilm Festival Oberhausen
European Media Art Festival, Osnabrück
Back-Up Festival Weimar
Video- und Documentary Festival Kassel
23rd Int. Sehsüchte Film Festival Potsdam
Frankfurt Art Faire Art Cinema